The precision and efficiency of warehouse operations are vital cogs in the machinery of commerce. At Ideal Recruiters LLC, we recognize the sheer diversity and complexity of roles that form the backbone of any successful warehouse.
Our expertise lies in not just understanding the nuances of these positions but in connecting companies with the perfect candidates to fill them. From the meticulous Order Selector to the strategic Operations Analyst, we have honed our recruitment processes to identify individuals who not only fit the technical requirements but also embody the drive and ethos of your company.
Partnering with Ideal Recruiters LLC means investing in a recruitment ally dedicated to the warehouse industry. Dive into our exploration of the "21 Types Of Warehouse Positions & Their Duties," and see how each role interlinks to create a seamless operational tapestry.
Read also : The Silent Exodus: Understanding Quiet Quitting and Its Impact on Business Leaders
Table of Contents
From the strategic oversight of managers to the meticulous attention to detail of inventory clerks, warehouse positions demand a diverse set of skills and responsibilities. As we unveil the 21 quintessential warehouse positions and their duties, we invite you to explore which role might suit your professional journey.
1. Warehouse Manager: The Operational Maestro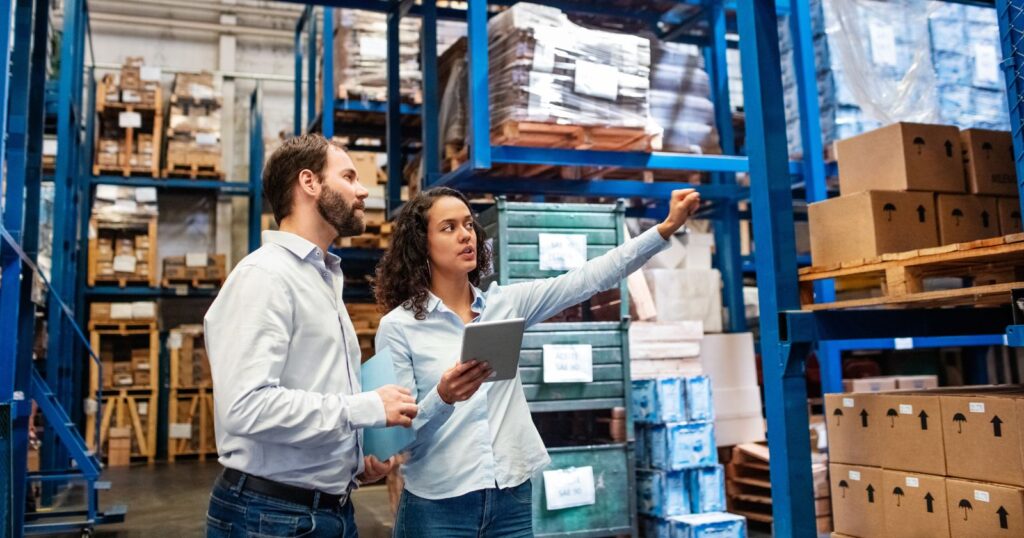 The Warehouse Manager holds the reins of the warehouse, steering it towards peak performance and operational excellence. They are the visionaries of space utilization, the strategists of distribution, and the guardians of efficiency.
Core Responsibilities
Strategic Management: Craft and uphold warehouse strategies in line with company policies.
Operational Oversight: Supervise the intricacies of receiving, warehousing, distribution, and maintenance.
Space Optimization: Design and implement an efficient layout for space utilization.
Policy and Procedure Development: Initiate and enforce procedures for optimal operations.
Compliance Adherence: Stay compliant with all warehousing, handling, and shipping regulations.
Safety and Security: Uphold the highest standards of health, safety, hygiene, and security.
Inventory Control: Master the art of stock control and reconcile inventories with data systems.
Fiscal Planning: Formulate and manage the annual budget.
Collaboration and Coordination: Build bridges with clients, suppliers, and transport firms.
Team Leadership: Lead the workforce with work rotas, task assignments, and performance reviews.
Talent Management: Recruit, train, motivate, and guide warehouse staff.
Reporting: Generate and analyze regular performance reports.
Key Skills and Qualifications
Proven Experience: Demonstrated success as a Warehouse Manager.
Warehouse Mastery: A thorough understanding of warehouse procedures and best practices.
Continuous Improvement: A track record of implementing successful process enhancements.
Performance Metrics: Proficiency in key warehousing performance indicators.
Tech Savviness: Hands-on experience with warehouse management systems.
Leadership Excellence: Exceptional leadership and staff management capabilities.
Decision-Making: Strong aptitude for decision-making and problem-solving.
Communication: Superior communication skills, both verbal and written.
Educational Foundation: Bachelor's degree in logistics, supply chain management, or business administration.
The Role in the Warehouse Ecosystem
The Warehouse Manager is the linchpin in the warehouse ecosystem, driving efficiency and ensuring the seamless flow of goods from the warehouse to the customer. They are instrumental in maintaining the rhythm of warehouse operations, aligning every task with the company's strategic vision, and leading the team to meet the targets. Their role is not just to manage but to inspire, not only to oversee but to foresee, ensuring that every piece of the warehouse puzzle fits perfectly into the bigger picture of the company's success.
2. Lead Hand: The Essential Link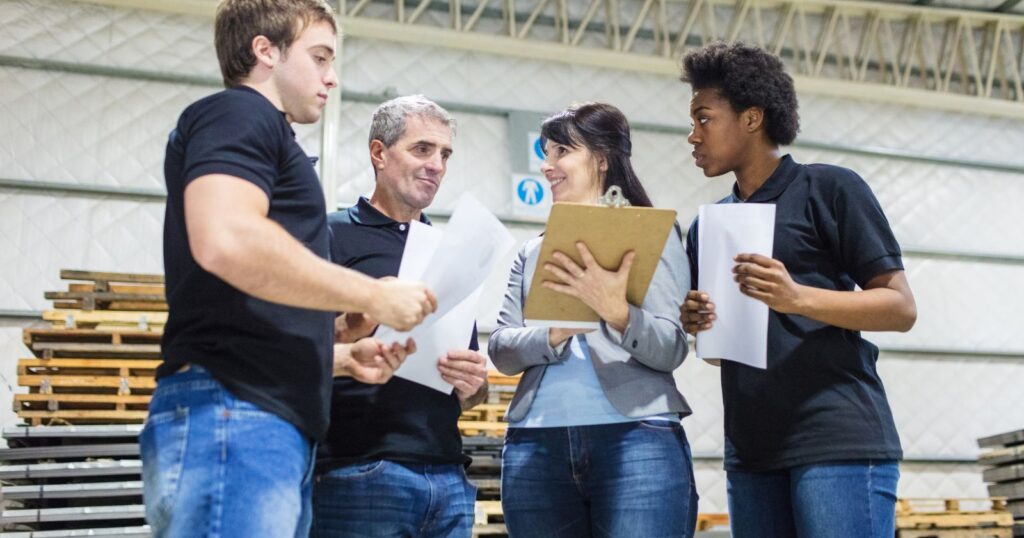 The Lead Hand serves as an essential connector between management and the warehouse floor. Tasked with maintaining the rhythm of daily activities, they ensure that operations run seamlessly, keeping the workforce aligned with the company's pulse.
Key Responsibilities
Supervisory Oversight: Monitor the performance of team members, ensuring that each individual's productivity contributes to the warehouse's collective goals.
Equipment Management: Oversee the availability and functionality of work equipment, ensuring no hiccups in operations.
Team Development: Hire and assign tasks to workers, honing the team for maximum output and ensuring a healthy work environment.
Performance Assessment: Regularly evaluate team members to identify areas of improvement, striving for the pinnacle of warehouse performance.
Skills and Abilities for Success
Collaboration: Exhibit stellar team skills, fostering a cooperative work environment.
Leadership: Exemplify strong leadership qualities, guiding team members towards success.
Directive Compliance: Ability to comprehend and implement instructions effectively.
Multitasking: Juggle various tasks without compromising on quality or efficiency.
---
3. Forklift Driver: The Operational Backbone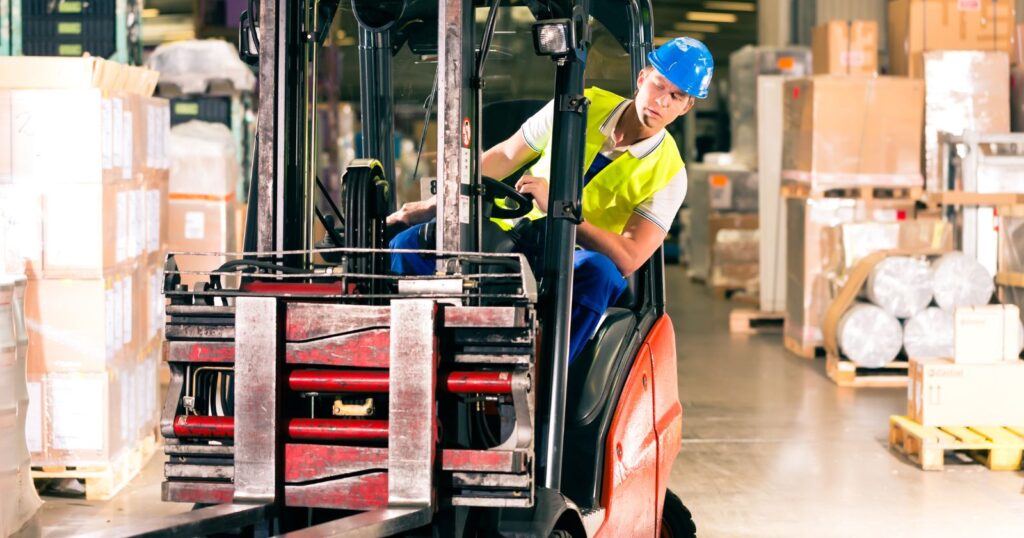 Forklift Drivers are the operational backbone, ensuring the efficient transport and handling of inventory within the warehouse. Their scope extends beyond mere transportation to include the maintenance of their machinery, thus ensuring a continuous flow of operations.
Key Responsibilities
Material Handling: Load and unload materials, organize them systematically, and ensure proper storage and readiness for distribution.
Stock Movement: Relocate inventory to designated areas, facilitating ease of access and shipment.
Equipment Inspection: Regularly assess machinery for repairs to uphold safety and functionality.
Inventory Tracking: Maintain logs of inventory movement and ensure compliance with company protocols.
Skills and Abilities for Success
Proven Experience: Solid background in operating forklifts and managing inventory.
Detail-Oriented: Keen attention to detail, particularly when inspecting and handling materials.
Physical Fitness: Excellent condition and coordination to manage the demands of material handling.
4. Warehouse Specialist: The Custodian of Goods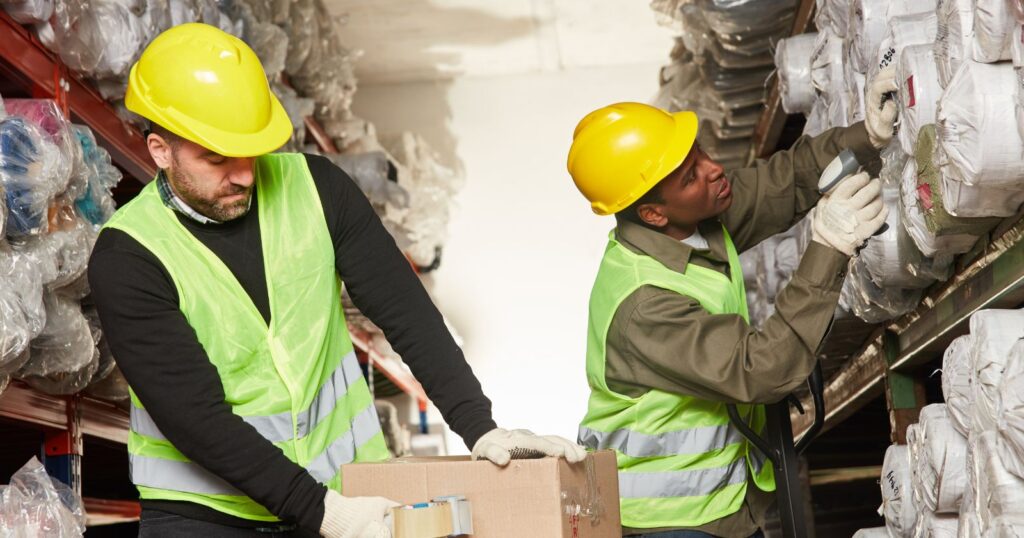 Warehouse Specialists are the master craftsmen of the warehouse environment, specializing in specific areas to ensure the quality and integrity of goods. They play a crucial role in the logistics of receiving, storing, and distributing products.
Key Responsibilities
Inspection and Storage: Verify incoming shipments against purchase orders and store goods systematically.
Inventory Management: Keep precise records and perform regular physical counts to maintain inventory accuracy.
Order Processing: Pick, pack, and prepare orders, ensuring correct and secure packaging.
Layout Optimization: Participate in designing warehouse layouts for optimal efficiency.
Safety Maintenance: Uphold cleanliness and safety protocols to ensure a secure work environment.
Skills and Abilities for Success
Educational Foundation: High school diploma or equivalent, with some roles requiring higher education or specialized training.
Experience: Previous warehouse or logistics experience.
Technical Proficiency: Basic computer skills and familiarity with inventory software.
Physical Capabilities: Ability to perform physically demanding tasks.
5. Clerk (Shipping and Receiving): The Gatekeeper of Goods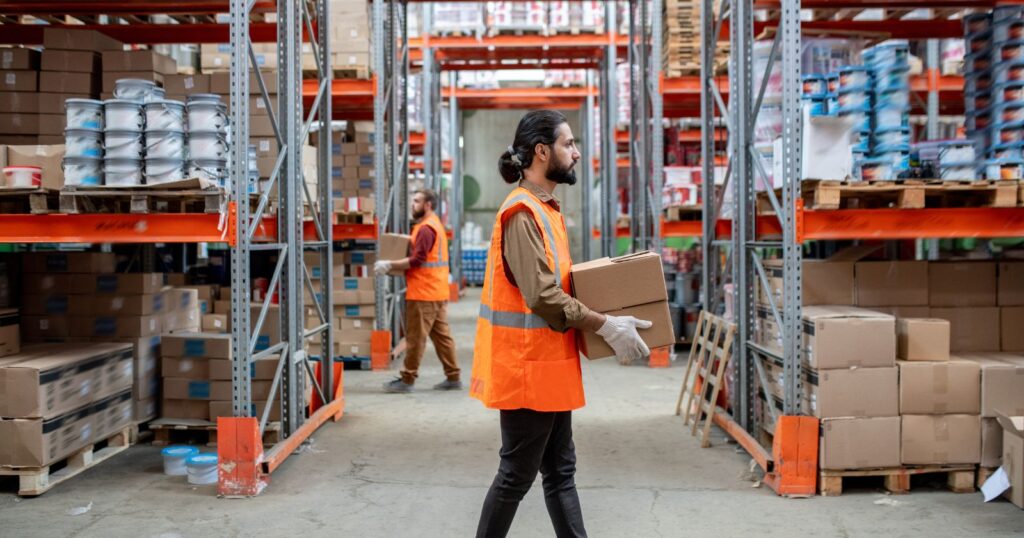 Clerks in shipping and receiving are the vigilant gatekeepers of the warehouse, ensuring that all incoming and outgoing goods are processed accurately and efficiently, minimizing the risk of damage or loss.
Key Responsibilities
Record-Keeping: Document order details meticulously in the warehouse management system.
Package Labelling: Ensure each package is marked with vital information for tracking and identification.
Inventory Monitoring: Oversee inventory levels, ordering more units as needed to maintain supply.
Skills and Abilities for Success
Attention to Detail: Acute precision in tracking and documenting inventory movement.
Physical Ability: Capacity to handle and lift items as part of the shipping process.
Flexibility: Adaptability to work different hours and respond to varying workflow demands.
---
6. Loader/Unloader: The Efficiency Experts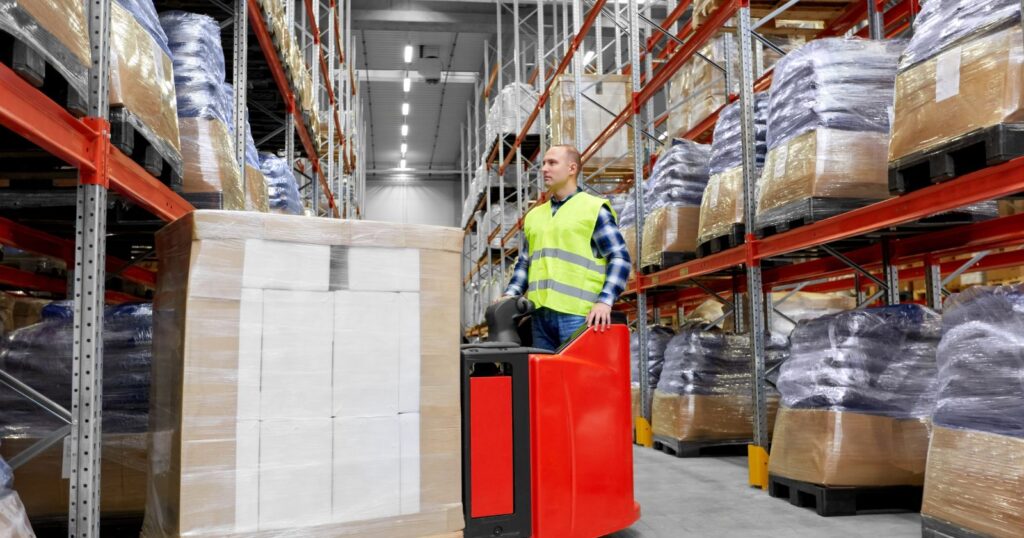 Loaders and unloaders are the dynamic forces ensuring the swift and safe movement of goods within the warehouse, contributing significantly to the maintenance of an orderly and efficient operation.
Key Responsibilities
Order Verification: Review work orders to match incoming shipments with the warehouse's needs.
Quality Control: Inspect items for conformity to standards and isolate non-conforming products.
Material Handling: Move merchandise from delivery trucks, secure goods, and transport them to storage areas.
Inventory Assistance: Aid in picking orders and tagging outgoing shipments with critical information.
---
7. Stocker: The Organizational Force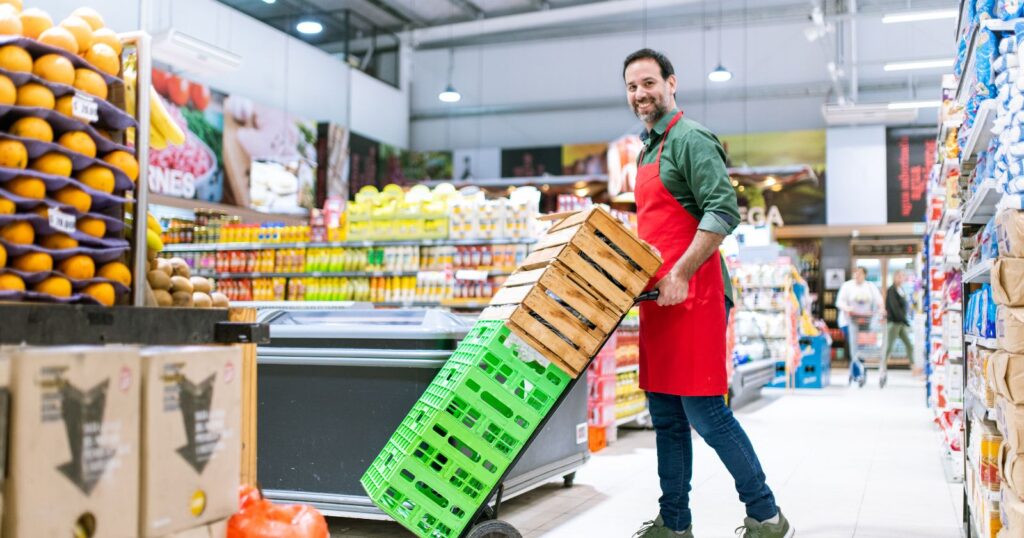 Stockers are the organizational force of the warehouse, tasked with the critical responsibility of ensuring that shelves are stocked, organized and that inventory levels are maintained to meet customer demand.
Store Presentation: Keep the store or warehouse neat, ensuring products are easily accessible to customers.
Inventory Management: Sort and stock products, maintain cleanliness in storage areas, and ensure accurate product counts.
Customer Service: Provide assistance and product information to customers, enhancing their shopping experience.
Skills and Abilities for Success
Key Responsibilities
Customer Interaction: Excellent customer service skills, including the ability to interact positively and provide helpful product insights.
Organizational Skills: Proficiency in maintaining a clean and organized store or warehouse environment.
Clerks, loaders/unloaders, and stockers each play an integral role in the functionality and success of a warehouse. Recruiters looking to fill these positions should seek individuals with the recommended skills to ensure the selection of candidates who will contribute positively to warehouse operations.
8. Order Selector: The Precision Picker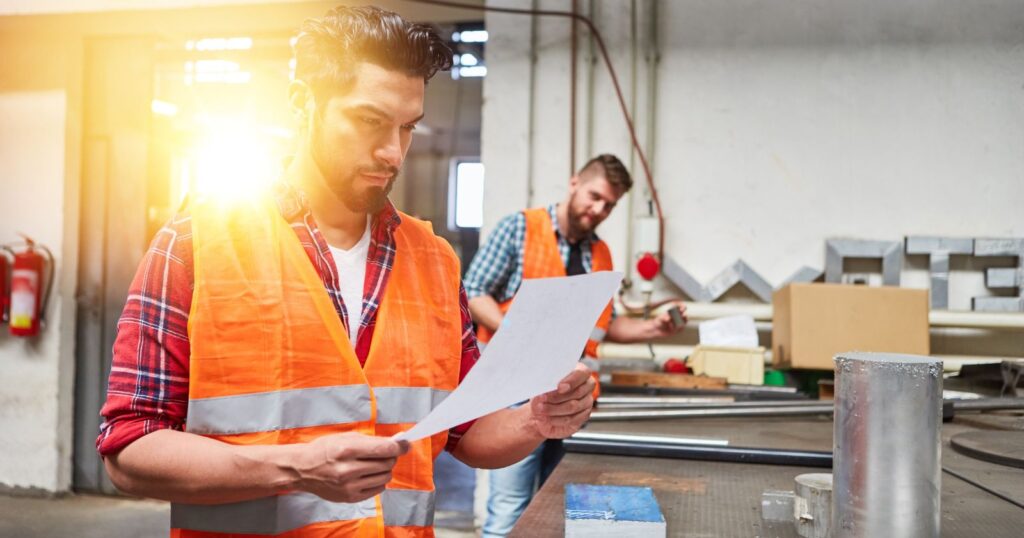 Order Selectors are the meticulous operatives dedicated to the precise assembly of customer orders. Their role is critical in preserving the accuracy of inventory and ensuring customer satisfaction through correct order fulfillment.
Core Responsibilities
Order Assembly: Carefully pick the correct items in the right quantities as per customer orders.
Quality Assurance: Conduct thorough inspections to ensure order accuracy and product quality.
Inventory Management: Keep a vigilant eye on stock levels, initiating reorder processes when necessary.
Collaboration: Work closely with inventory controllers and warehouse managers to resolve any discrepancies.
Equipment Operation: Utilize material handling equipment to move selected orders to the packing area.
The Role in the Warehouse Ecosystem
Order Selectors operate with a keen eye for detail, directly influencing the warehouse's ability to maintain customer trust. Their precision in picking orders is a cornerstone of the warehouse's service promise, making them an essential component of the customer satisfaction chain.
Skills and Abilities for Success
Teamwork: Foster collaborative working relationships.
Leadership: Guide peers with strong leadership.
Instruction Adherence: Follow and execute directives with precision.
Multitasking Mastery: Balance multiple tasks while maintaining high standards.
Record Accuracy: Keep records meticulously, ensuring all data is current and precise.
9. Receiving Associate: The Gateway Guardian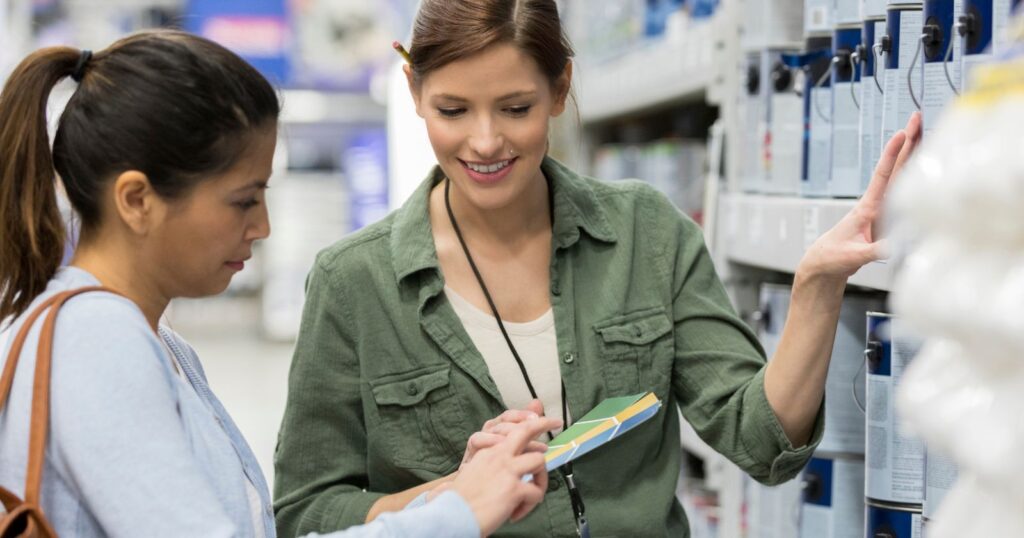 Receiving Associates act as the first point of contact for new stock entering the warehouse. They play a pivotal role in ensuring that all incoming goods are processed correctly and integrated smoothly into the warehouse system.
Core Responsibilities
Inventory Receipt: Oversee the unloading of goods, verifying quantities, and condition.
Documentation: Manage the documentation process for incoming shipments, ensuring accuracy and completeness.
Quality Control: Perform initial quality checks to identify and report any damages or discrepancies.
Stock Integration: Coordinate with inventory managers to update the warehouse management system and allocate space for new stock.
Process Improvement: Continuously suggest improvements in receiving procedures to increase efficiency.
The Role in the Warehouse Ecosystem
As gatekeepers, Receiving Associates ensure that the influx of goods into the warehouse is a seamless transition, setting the stage for efficient storage, order picking, and dispatch. They are essential in maintaining the integrity of the warehouse's stock from the moment it arrives.
Skills and Abilities for Success
Attention to Detail: Exceptional focus on the details of shipment and documentation.
Systematic Organization: Maintain a systematic approach to the receipt and storage of inventory.
Problem Solving: Employ problem-solving skills to address receiving challenges.
Adaptability: Quickly adapt to new inventory and documentation systems.
Communication: Clear communication with suppliers and team members.
10. Package Handler: The Final Touchpoint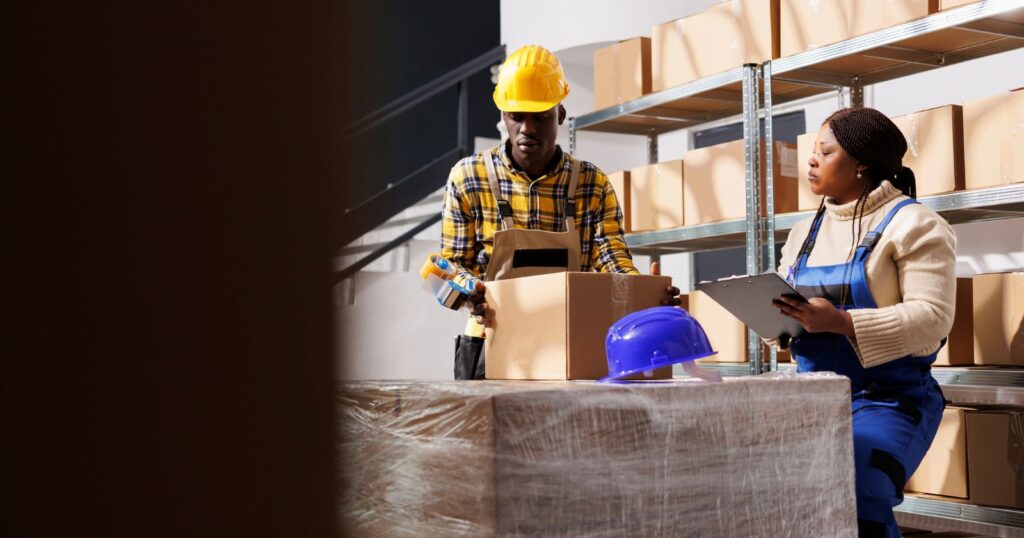 Package Handlers are entrusted with the crucial final steps in the order fulfillment process. They ensure that each parcel is properly packaged, labeled, and ready for shipment, directly impacting delivery efficiency.
Core Responsibilities
Packaging: Securely wrap and pack products for shipment, adhering to packaging standards.
Labeling: Affix shipping labels and ensure that packages contain the correct documentation.
Sorting: Sort and organize packages based on destination and priority.
Loading: Assist in loading parcels onto delivery trucks, ensuring optimal space utilization.
Inventory Tracking: Update the tracking system to reflect the status of shipments.
The Role in the Warehouse Ecosystem
Package Handlers are the final assurance of quality before products reach the customer. They add the finishing touches to the order process, with their diligence directly affecting the timeliness and accuracy of deliveries. Their role, while fundamental, is a linchpin in the logistical chain.
Skills and Abilities for Success
Efficiency: Combine speed with accuracy in handling packages.
Physical Stamina: Sustain the physical demands of moving and lifting packages throughout the shift.
Detail-Oriented: Keep a keen eye on labeling and packaging details.
Team Player: Work effectively within a team to meet shipping targets.
Safety Consciousness: Prioritize safety in all tasks to ensure a secure working environment.
11. Inspector: The Quality Vanguard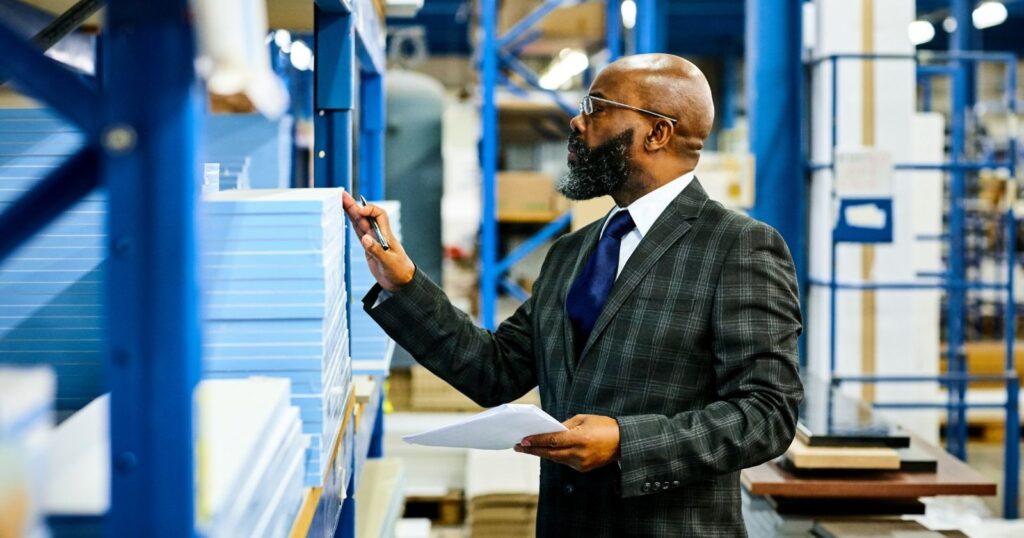 Inspectors are the discerning eyes of the warehouse, the vigilant guardians ensuring that only products that meet the rigorous standards make their way into the market.
Core Responsibilities
Quality Assurance: Conduct thorough inspections to ensure products meet quality standards.
Protocol Adherence: Verify that all handling and shipping protocols are strictly followed.
Defect Identification: Detect and report any product defects or discrepancies.
Record Keeping: Maintain detailed inspection records for quality tracking and assurance.
Continuous Improvement: Recommend procedural improvements to enhance product quality.
The Role in the Warehouse Ecosystem
As the bastions of quality, Inspectors ensure that the warehouse's reputation for excellence is consistently upheld. Their role is pivotal in the supply chain, serving as the final checkpoint for product integrity before items leave for customer delivery.
Skills and Abilities for Success
Vigilant Observation: Exceptional ability to notice minute defects or deviations from standards.
Thoroughness: Commitment to comprehensive inspections without cutting corners.
Analytical Skills: Capability to assess problems and deduce logical solutions.
Detail-Oriented Record-Keeping: Keep meticulous records that accurately track inspection outcomes.
Effective Communication: Articulate inspection findings clearly to team members and management.
12. Inventory Control Specialist: The Stock Strategist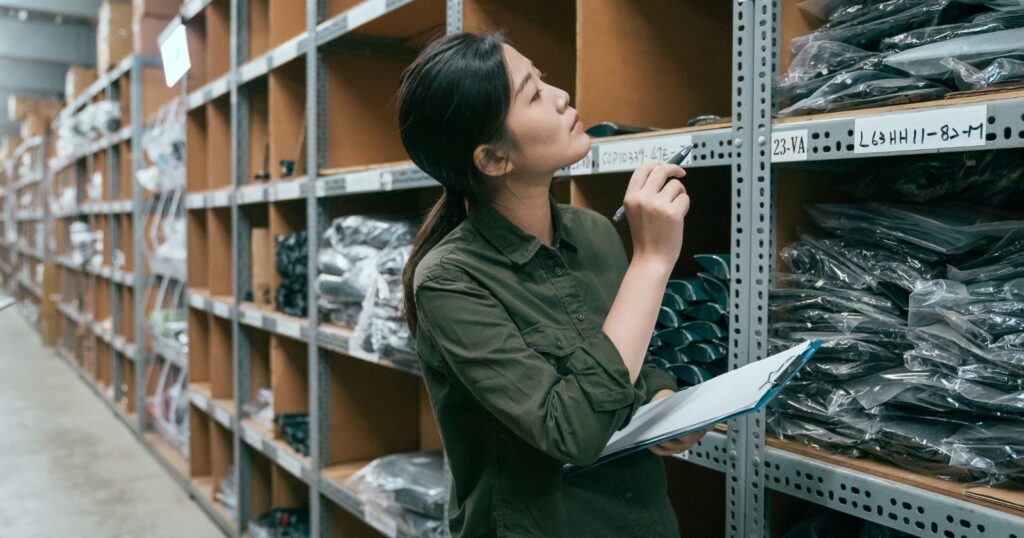 Inventory Control Specialists are the analytical brains behind stock management, ensuring every item is accounted for and optimally stocked.
Core Responsibilities
Inventory Audits: Perform regular audits to verify physical stock levels against system records.
Movement Tracking: Monitor and record inventory movements to anticipate product needs accurately.
Discrepancy Mitigation: Identify and address any stock inconsistencies or errors.
Inventory Analysis: Analyze inventory trends and advise on reorder points and quantities.
Reporting: Generate accurate reports on inventory status and valuation.
The Role in the Warehouse Ecosystem
As critical thinkers in the warehouse, Inventory Control Specialists are essential in balancing stock levels, ensuring that inventory is neither overstocked nor understocked, thus maintaining operational flow and cost-effectiveness.
Skills and Abilities for Success
Analytical Proficiency: Strong analytical skills to interpret complex inventory data.
Detail Orientation: A keen eye for detail in managing stock records.
Problem-Solving: Creative problem-solving abilities to address inventory challenges.
Technological Savvy: Proficiency in inventory management systems and software.
Proactive Communication: Effective communication skills for coordinating with other departments.
13. Picking and Packing Associate: The Order Fulfillment Expert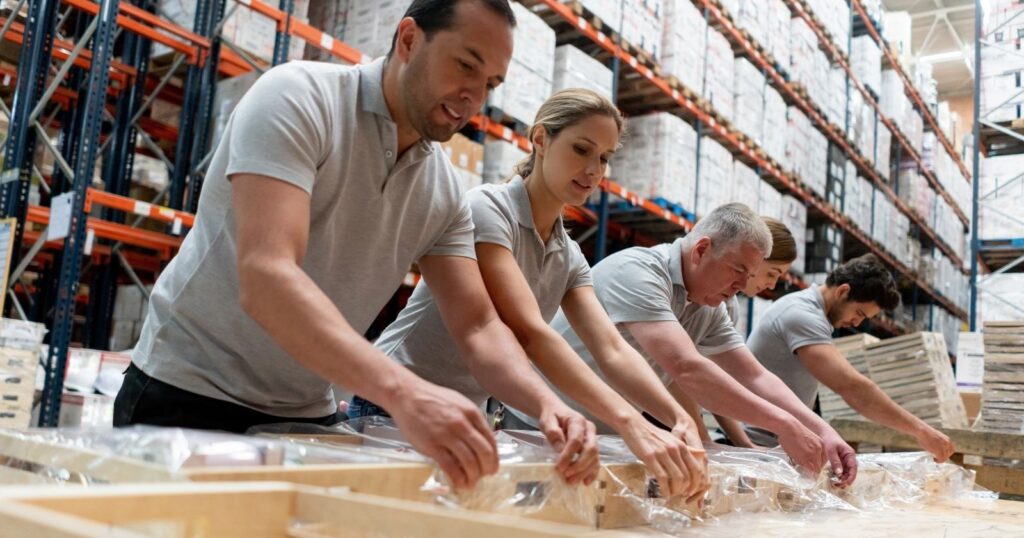 Picking and Packing Associates are agile and precise operatives ensuring that every customer order is assembled accurately and dispatched on time.
Core Responsibilities
Order Picking: Select products accurately based on order sheets.
Packing Precision: Pack orders securely, ensuring items are well-protected during transport.
Speed and Efficiency: Work quickly to meet dispatch deadlines without compromising on accuracy.
Inventory Handling: Keep inventory organized to facilitate easy picking.
Labeling: Apply correct shipping labels and documentation to packed orders.
The Role in the Warehouse Ecosystem
These associates are the pace-setters in the order fulfillment process, their efficiency and precision directly impacting customer satisfaction and loyalty.
Skills and Abilities for Success
Accuracy: Unerring attention to detail in picking and packing processes.
Time Management: Ability to prioritize tasks and manage time effectively.
Physical Dexterity: Capability to handle physical tasks and operate packing machinery if necessary.
Organization: Maintain an organized workspace and manage inventory systematically.
Team Coordination: Work cohesively with team members to streamline the packing process.
14. Quality Control Coordinator: The Guardian of Standards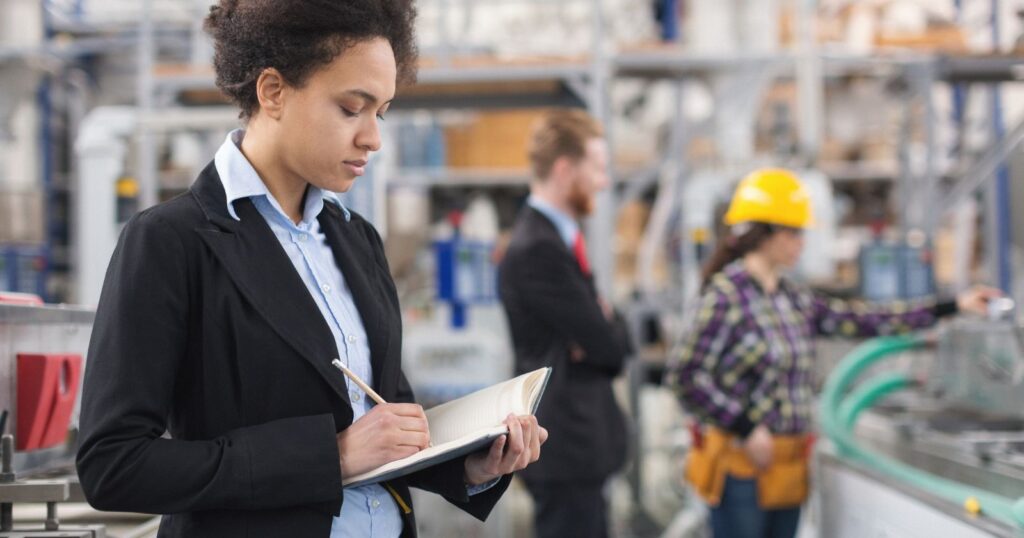 Quality Control Coordinators are the meticulous overseers of product standards, ensuring that every item reflects the warehouse's commitment to quality.
Core Responsibilities
Quality Inspections: Conduct detailed inspections of incoming and outgoing products.
Standards Compliance: Ensure all products meet established standards and specifications.
Defect Management: Identify defects and take appropriate action to remove faulty items.
Feedback Loop: Provide feedback to warehouse staff and management on quality issues.
Continuous Quality Improvement: Implement quality control processes for continuous improvement.
The Role in the Warehouse Ecosystem
Quality Control Coordinators are the steadfast protectors of the warehouse's quality promise, instilling confidence in both the workforce and the customer base with their rigorous standards.
Skills and Abilities for Success
Critical Eye: Exceptional ability to identify deviations from quality standards.
Process Orientation: Strong understanding of quality control processes and methodologies.
Decisive Action: Ability to make quick decisions regarding product quality.
Detail-Focused Documentation: Maintain comprehensive records of inspections and quality issues.
Interdepartmental Communication: Communicate effectively with all levels of the warehouse team to uphold quality standards.
15. Maintenance Technician: The Machinery Maestro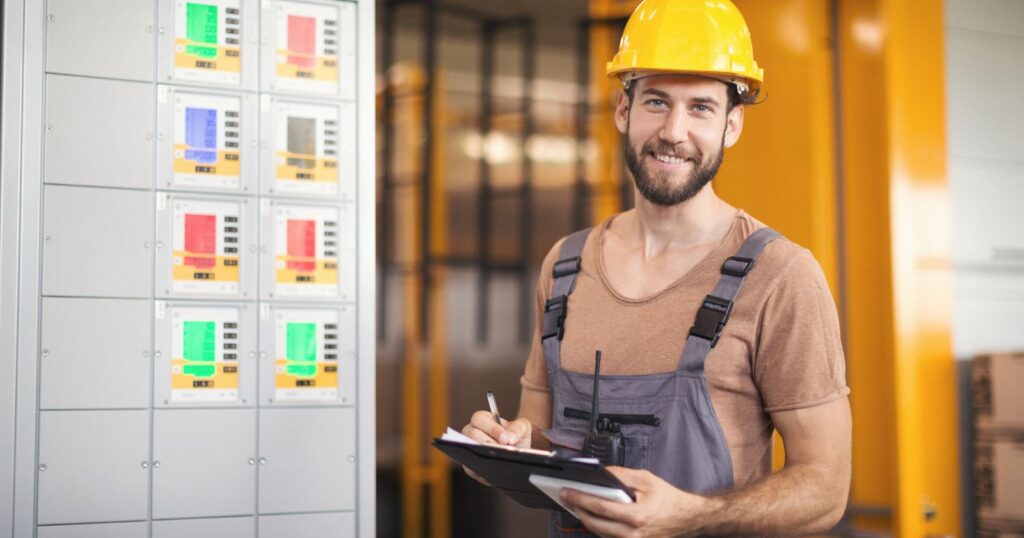 Maintenance Technicians are the hands-on force that keep warehouse machinery and equipment in top condition, ensuring minimal downtime and maximum productivity.
Core Responsibilities
Preventive Maintenance: Conduct regular checks and routine maintenance to prevent breakdowns.
Repairs and Troubleshooting: Diagnose malfunctions and repair warehouse equipment swiftly.
Equipment Upgrades: Recommend and implement equipment upgrades to improve efficiency.
Safety Inspections: Ensure machinery complies with safety regulations and operational standards.
Maintenance Records: Keep detailed records of maintenance activities and machinery performance.
The Role in the Warehouse Ecosystem
As the proactive guardians of warehouse equipment, Maintenance Technicians play a crucial role in maintaining the heartbeat of warehouse operations, ensuring that machinery downtime does not disrupt the supply chain.
Skills and Abilities for Success
Technical Expertise: Strong knowledge of mechanical systems and electrical principles.
Problem-Solving: Excellent troubleshooting skills for quick and effective repairs.
Attention to Detail: Precision in conducting thorough maintenance and safety checks.
Time Management: Ability to prioritize tasks and manage maintenance schedules efficiently.
Communication: Clear communication with warehouse staff and management regarding equipment status.
16. Health and Safety Officer: The Protector of Well-being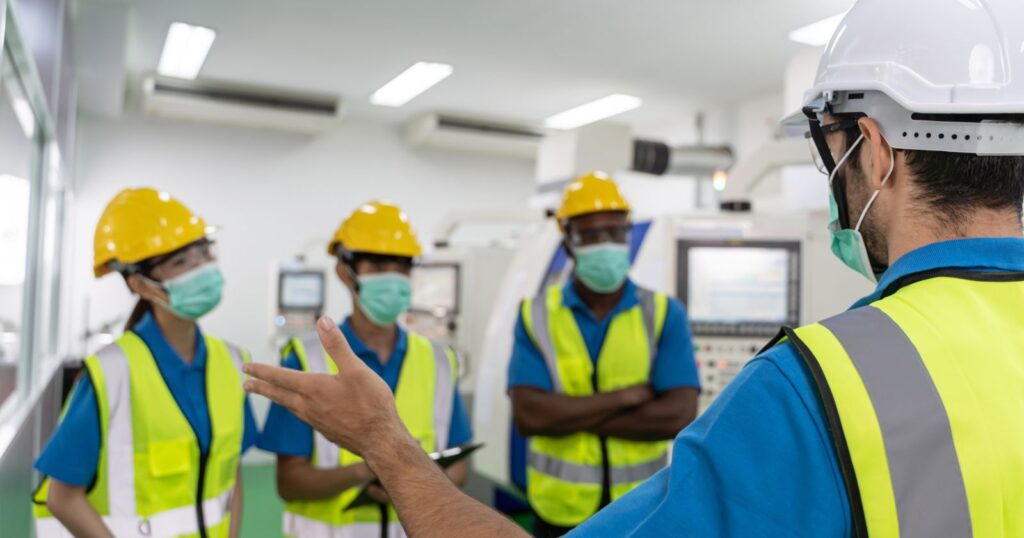 Health and Safety Officers are the vigilant enforcers of a safe warehouse environment, tirelessly working to protect staff from hazards and ensure compliance with health and safety laws.
Core Responsibilities
Safety Training: Conduct regular safety training sessions for warehouse staff.
Risk Assessments: Carry out thorough risk assessments to identify potential hazards.
Compliance Monitoring: Monitor and enforce adherence to health and safety regulations.
Accident Response: Manage and investigate accidents, implementing measures to prevent recurrence.
Safety Policy Development: Develop and update health and safety policies and procedures.
The Role in the Warehouse Ecosystem
They are the stewards of safety, cultivating a culture of awareness and responsibility that permeates every aspect of warehouse operations, thus safeguarding the workforce and the organization.
Skills and Abilities for Success
Knowledge of Regulations: In-depth knowledge of health and safety laws and best practices.
Risk Management: Ability to identify and mitigate risks effectively.
Training Skills: Proficiency in conducting engaging and informative safety training.
Investigative Acumen: Strong investigative skills to thoroughly examine safety incidents.
Proactive Communication: Exceptional communication skills for promoting safety awareness.
17. Warehouse IT Support: The Tech Troubleshooter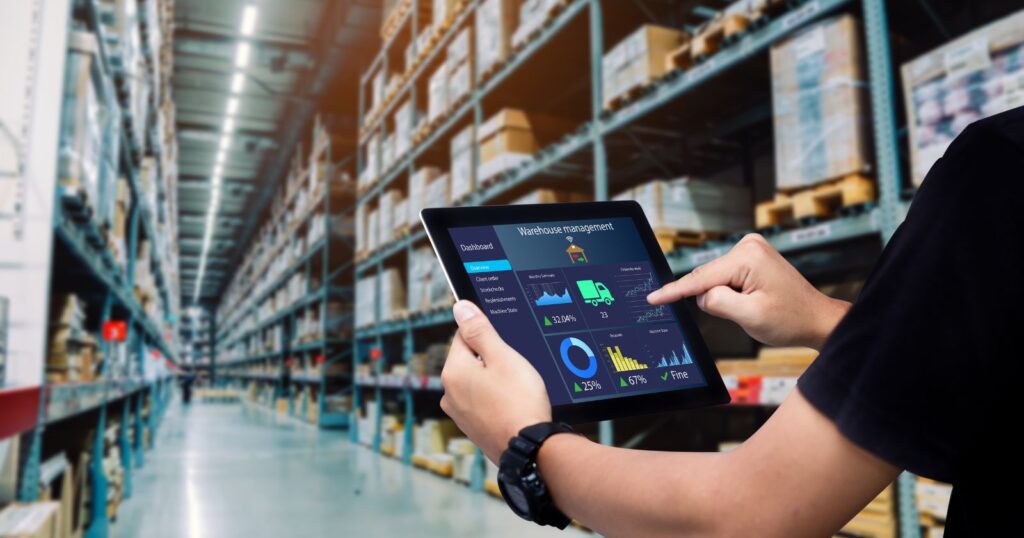 Warehouse IT Support specialists are the technological backbone of the warehouse, ensuring that all systems function seamlessly to support the fast-paced operations.
Core Responsibilities
System Maintenance: Perform regular maintenance on the warehouse management system and other operational technology.
Technical Support: Provide timely technical support and troubleshoot system issues.
Software Updates: Manage and implement software updates and patches.
Data Security: Ensure the integrity and security of data within warehouse systems.
Training Staff: Train warehouse staff on new technologies and system functionalities.
The Role in the Warehouse Ecosystem
They are the unsung heroes who keep the digital gears of the warehouse turning, preventing system glitches from slowing down the supply chain.
Skills and Abilities for Success
Technical Proficiency: Expertise in warehouse management software and IT infrastructure.
Problem-Solving: Quick and effective resolution of technical issues.
Adaptability: Stay current with evolving technology trends in warehouse operations.
Detail-Oriented: Vigilance in maintaining system security and data integrity.
Instructional Ability: Capacity to instruct staff in technology use and best practices.
18. Operations Analyst: The Efficiency Expert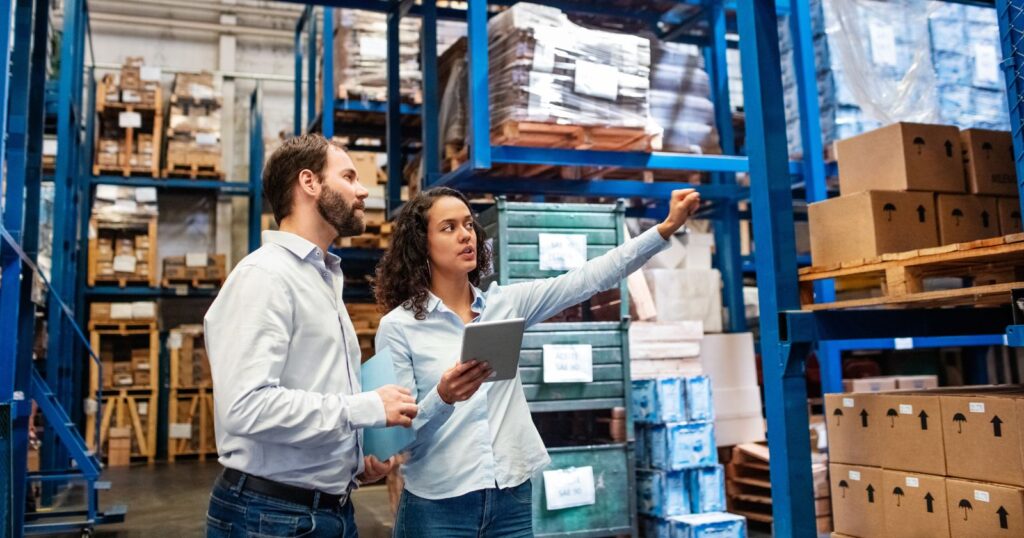 Operations Analysts are the data-driven strategists of the warehouse, utilizing analytics to streamline operations and carve out cost savings.
Core Responsibilities
Data Analysis: Analyze operational data to identify trends and improvement opportunities.
Process Evaluation: Evaluate current practices for efficiency and effectiveness.
Cost Analysis: Scrutinize operational costs to pinpoint areas for financial optimization.
Performance Reporting: Develop comprehensive reports on warehouse operations and suggest improvements.
Collaboration: Work with management to implement data-driven process enhancements.
The Role in the Warehouse Ecosystem
They are the critical thinkers, their insights into operations fostering a culture of continuous improvement and strategic planning.
Skills and Abilities for Success
Analytical Thinking: Ability to interpret complex data and translate it into actionable insights.
Strategic Planning: Skill in formulating strategies based on data analysis.
Attention to Detail: Precision in dissecting processes and identifying inefficiencies.
Communication: Clear and persuasive communication of findings and recommendations.
Collaborative Spirit: Collaborate across departments to facilitate operational improvements.
19. Human Resources Coordinator: The Talent Architect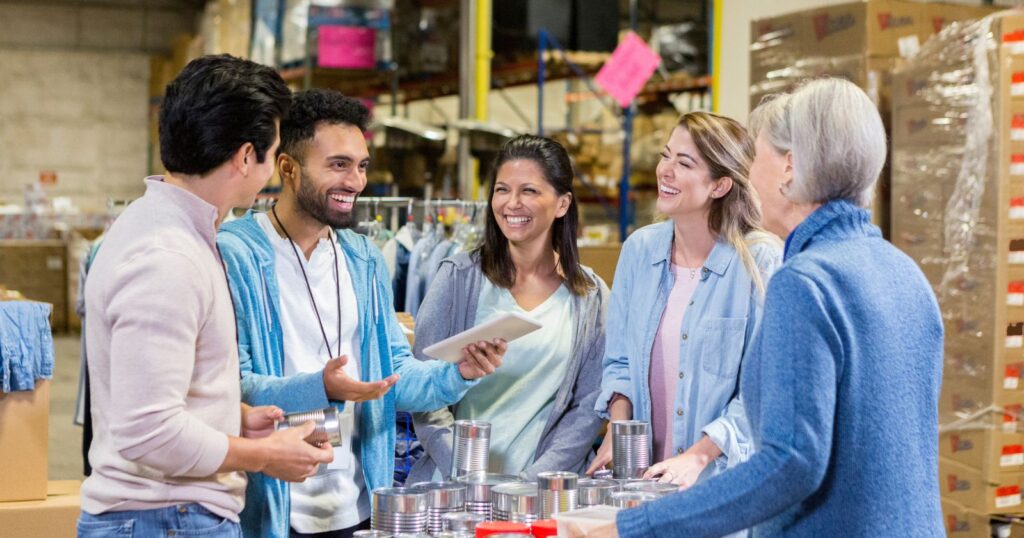 Human Resources Coordinators are the architects of the workforce, crafting a robust team by managing recruitment, fostering skill development, and nurturing a positive work culture.
Core Responsibilities
Recruitment Management: Oversee the recruitment process, from job postings to interviewing and hiring.
Training Development: Develop and implement training programs for staff professional growth.
Employee Relations: Serve as a point of contact for employee concerns, fostering a harmonious workplace.
Policy Implementation: Implement human resources policies and ensure compliance with labor laws.
Performance Management: Coordinate performance review processes and manage employee records.
The Role in the Warehouse Ecosystem
They are the cultivators of the warehouse's human capital, ensuring that the team is not only skilled and efficient but also motivated and engaged.
Skills and Abilities for Success
Interpersonal Skills: Excellent ability to interact and communicate with individuals at all levels.
Organizational Abilities: Proficient in managing multiple HR functions and maintaining detailed records.
Conflict Resolution: Skill in mediating disputes and fostering a positive work environment.
Regulatory Knowledge: Up-to-date with employment legislation and HR best practices.
Empathy and Support: Provide support and guidance to staff, promoting employee well-being.
---
20. Logistics Coordinator: The Supply Chain Synchronizer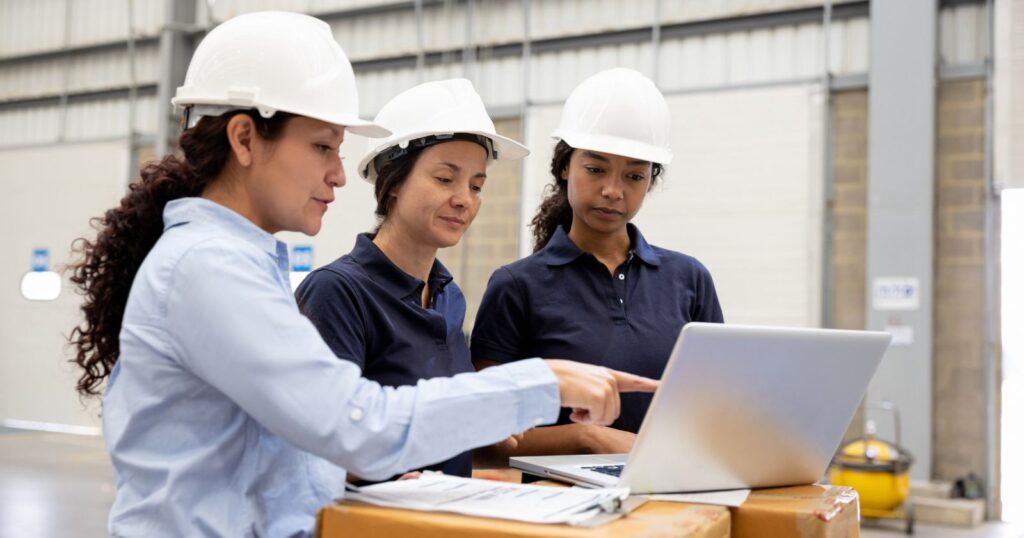 Logistics Coordinators are the orchestrators of goods movement, ensuring that every product reaches its destination efficiently and on schedule.
Core Responsibilities
Transport Coordination: Manage the scheduling and routing of shipments both in and out of the warehouse.
Delivery Management: Oversee delivery processes to ensure timeliness and customer satisfaction.
Route Optimization: Identify and implement the most efficient transportation routes.
Vendor Relations: Maintain relationships with shipping vendors and negotiate contracts.
Logistics Analysis: Monitor logistics performance and suggest improvements for efficiency.
The Role in the Warehouse Ecosystem
As the navigators of the supply chain, Logistics Coordinators ensure that the journey of goods is as swift and smooth as possible, directly impacting customer service and the bottom line.
Skills and Abilities for Success
Strategic Planning: Proficiency in planning and executing complex logistics strategies.
Time Management: Ability to prioritize and manage time-sensitive logistics tasks.
Problem-Solving: Quick-thinking and resourceful in resolving transportation issues.
Technological Savvy: Comfortable with logistics software and tracking systems.
Negotiation Skills: Strong negotiation skills for vendor and carrier agreements.
---
21. Customer Service Representative: The Client Connection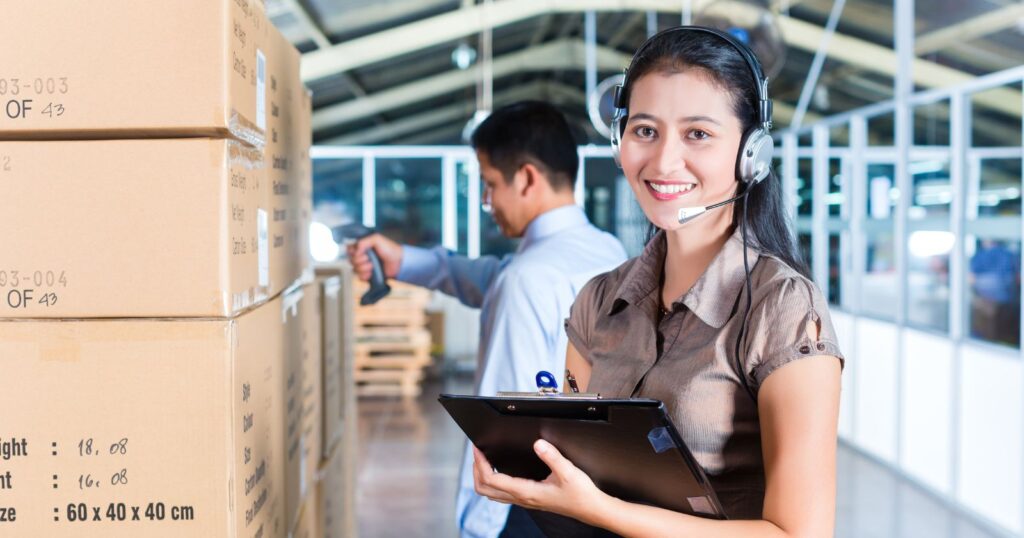 Customer Service Representatives are the vital link between the warehouse and its clients, handling inquiries with care and resolving issues with a customer-centric approach.
Core Responsibilities
Inquiry Response: Address customer questions and concerns promptly and effectively.
Issue Resolution: Liaise with warehouse staff to resolve customer issues efficiently.
Service Information: Provide accurate information regarding products, services, and order status.
Feedback Collection: Gather customer feedback to improve service and operations.
Record Maintenance: Maintain up-to-date records of customer interactions and transactions.
The Role in the Warehouse Ecosystem
They are the voice of the warehouse to the customer, playing a key role in maintaining customer satisfaction and loyalty through exceptional service and communication.
Skills and Abilities for Success
Customer Service Excellence: Strong commitment to outstanding customer service.
Communication Proficiency: Excellent verbal and written communication skills.
Problem-Solving: Ability to identify and resolve customer issues swiftly and satisfactorily.
Patience and Empathy: Patience to handle customer complaints and the empathy to understand their issues.
Data Entry Skills: Accurate and efficient data entry to keep customer records current.
Conclusion: Forging the Future of Warehouse Excellence with Ideal Recruiters LLC
The symphony of a well-orchestrated warehouse is a testament to the synchronized efforts of its diverse team. At Ideal Recruiters LLC, we are passionate about composing teams that resonate with efficiency and dedication.
As we wrap up our detailed guide to the pivotal warehouse positions, we extend an invitation to warehouse operations across New Jersey: let us harmonize your staffing needs with our reservoir of adept and vetted candidates.
Embrace the opportunity to elevate your operations by visiting idealrecruiters.com and connecting with us through our contact form. Ideal Recruiters LLC is not just a gateway to exceptional talent; we are your strategic partner in building a workforce that is as dynamic and robust as the industry itself. Reach out today—let's craft the future of warehouse excellence together.